The latest stock crashes (1987-2000-2008-2012) have developed their corrections in the form of "zig-zag", opportunities to experience strong technical rebounds as a result of overselling .
 Although only a little over a month has passed (the S&P500 marked its all-time high at 3,393 on February 19), the time seems far away when the markets rose with little rest.  Without a doubt, the Covid-19 will go down in history as one of the most aggressive and fastest spreading pandemics in history.  The ease of spreading the virus and the forecast of governments has led us to an extreme situation.  This scenario has acted as a bearish catalyst in the markets, a "shock" that triggered a violent stock market correction that has brought the world's main indexes to new multi-year low levels.
The abrupt correction started in late February has led the markets to oversold levels not seen since the 2008 crisis. The rate of decline has been very high as a result of the multiple moments of panic experienced in the stock markets.  An example of this is the -12.9% correction registered in the Dow Jones, a historic drop that led to a loss of 3,000 points in just one trading session.  Such abrupt movements do not distinguish between securities or asset types.  Fear seizes the sell button and exercises all its power.  If however, every stock market crash that precedes scales a silver lining: diamonds in the rough in the form of stocks with attractive multiples very difficult to find in normal market situations.  In other words, the main world stock markets present interesting buying opportunities at current levels to take advantage of, at least, a technical rebound in the short term.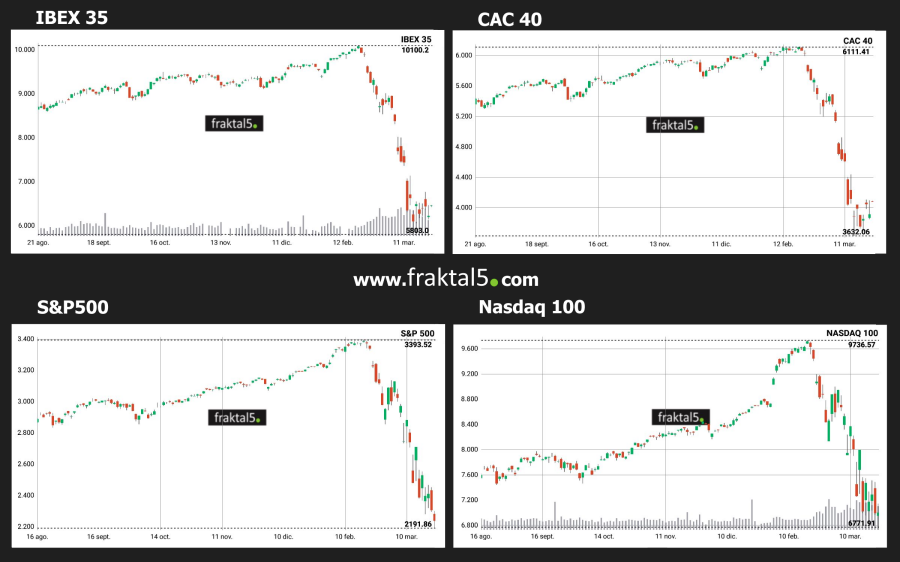 The 2,500 points in the S&P500 are, without a doubt, the level to watch in the short term.  A hypothetical overcoming of them in daily closing prices would confirm a first sign of a bullish turn whose projection could catapult the selective heading to 2,700-2,750 points, a level where it should face the biggest bearish breakout gap left in the medi.  The equivalent on the Nasdaq 100 would be 7,900 and 8,400 points respectively.  Independently that the S & P500 exceeds its second resistance, or not, if the first bullish section is confirmed, it could mean a technical rebound of between 12% and 18% for the main European stock markets, which could mean seeing, for example, the CAC40  attacking the 4,600-4,800 or the Ibex35 the 7,500-8,000 points.
Current levels (March 23) and possible short-term goals:
  IBEX 35: 6230. Targets: 7000, 7500, 7800 points.
  CAC 40: 3914. Targets: 4400, 4600, 4800 points.
  S&P500: 2237. Targets: 2550, 2700, 2750 points.
  Nasdaq100: 7004 Targets: 7350, 7700, 7.900, 8.400 puntos.
 The Artificial Intelligence engine PRO TRADING has detected several technical indicators that could be anticipating a potential reote in the short term.  In turn, it has generated various purchasing strategies, available exclusively for fraktal5 PRO TRADING users, optimal to take advantage of this historic opportunity that the market could be offering us.  The high oversold coupled with the strong bullish divergences detected near structural supports could bring forward the start of a bullish section that, at least, partially corrects the drop started in mid-February.  We will soon leave doubts